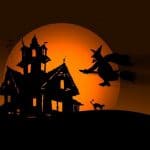 Halloween night is full of fun frights, but you absolutely do not want any scares where your child's safety is concerned. Below are some halloween safety tips Hoover AL.
Halloween night sees twice as many accidents involving pedestrians and vehicles than any other night of the year.
Unfortunately, only one out of three parents have a talk with their kids about being safe during Halloween, despite being concerned about their child's safety. Whether your child will be accompanied by an adult or they will be joining their friends to trick or treat, we want you and your family to have a fun-filled and safe Halloween.
Halloween Safety Tips Hoover AL
Talk about safety with your children before you head out for an fun evening of tricks and treats.
Can your Child See Properly?
Masks are a major safety concern for both children and adults as they greatly restrict the ability to see everything. Full coverage masks restrict how much you can hear. This makes it difficult to see obstacles and uneven walking surfaces in front of you.
Instead of using masks in costumes, consider using face paint or makeup to complete yours or your child's costume.
Flashlights are also important to bring during your Halloween walk. Areas that are not well lit, flashlights make it easier to see.
Can They be Seen by Others?
Wearing dark colours at night while walking near traffic and roadways is an obvious danger that many overlook.
The best way to ensure that you and your family can be seen while walking around on Halloween night is to choose brightly coloured costumes and trick or treating bags, as well as using reflective tape. Reflective tape can be bought from most hardware stores for around $5 a roll and can make all the difference in making your family as visible as possible.
Putting a strip along your shoulders on your back and across your hips, chest, or down your legs, will ensure that you can be seen both coming and going.
Glow sticks and flashlights are another great way to make your family seen at night, and the variations in types of glow sticks and glow jewelry can make them a fun thing to wear.
Do They Have a Walking Buddy?
The general consensus is that children 12 years of age and younger should always be accompanied by an adult when out on Halloween night. Those who are older and choose not to be accompanied by an adult should have at least one walking budding with whom they go out on Halloween night and stick with for the entire evening.
Safety comes in groups since the little goblins and witches are easier to see, and less likely to be overlooked, compared to a single person. In general, groups of three to six are ideal.
Do They Know the Route?
If your child is going out on Halloween, have a conversation with them about the route they plan on walking. Planning out where they are going ensures that they don't get lost.
Be sure that you discuss how to cross streets, and that they know to use pedestrian crosswalks ("look both ways!"), making sure that the drivers are stopped before trying to cross.
Can They Get in Contact With You?
Know who your children are going out on Halloween with.   Doesn't matter if its with another adult or with their friends.  Be sure your children know how to get in contact with you.
Will They be Enjoying Treats?
Tell your children to only eating candy that is completely sealed.  Inform them only to eat the candy, while they are home.
Two main reasons: First, if your child has any allergies you can monitor what exactly they are eating.  Second, you can check for any hazards that can pose a potential threat to your child's health.
Happy Halloween!