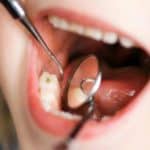 Tooth decay can be caused by much more than just poor oral hygiene. So, what causes tooth decay? Tooth decay is often a symptom or warning sign of something much more dangerous, happening in the body.
When you visit your local dentist for an exam, like your Hoover Alabama dentist, they are looking at more than just the physical appearance of your teeth. We are trying to understand the entire picture, along with what your mouth and oral health is telling us.
Common Diseases That Cause Tooth Decay
The mouth is a window to the rest of the body and will often show warning signs that there's something bigger going on. Here are some of the diseases that frequently cause tooth decay. If you suffer from any of these conditions, be sure to discuss with your dentist at your next appointment.
Diabetes
Diabetes has perhaps the most significant cause and effect relationship with tooth decay. Whether you have type I or type II diabetes, your body's blood sugar is elevated because of lowered insulin levels. This impacts many parts of the body, and the mouth is a big part of that.
As the tooth decay continues to build up, the risk for gum disease also increases. Gum disease is caused as bacteria continues to build up in your mouth. In fact, about a quarter of all people diagnosed with diabetes also develop gum disease.
Autoimmune Conditions
Autoimmune conditions are a family of diseases that involve the body attacking parts of itself. This can include everything from major organ systems, like the kidneys, to smaller systems like salivary glands. Many of these diseases have some impact on the mouth, but the one most directly tied to oral health is Sjögren's syndrome.
People with Sjögren's may need to visit the dentist more frequently than twice per year to keep tabs on tooth decay that results from decreased saliva production. There are also over the counter lozenges, mouthwashes, and other products that can help increase saliva production and manage symptoms day-to-day.
Anorexia and Bulimia
Both anorexia and bulimia are severe eating disorders. They occur when men or women have an extreme fear of becoming overweight and either eat less or regurgitate food as a result.
Both conditions have implications on the teeth because the body is not getting the minerals, vitamins, proteins and other nutrients that it needs to maintain good oral health and prevent tooth decay from forming. When people with anorexia do eat, they tend to fill up on sugary, salty, unhealthy foods that are bad for your teeth.
Avoid Tooth Decay with Total Body Care
These are just a few of the more common diseases that cause tooth decay. The connections between your mouth and the rest of your body are not always apparent which is why it's important to share your medical history with your dentist. We hope you visit Sampson Dentistry for a dental appointment soon!